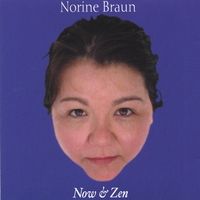 "

Now and Zen by Norine Braun Usually I recommend CDs to listeners who like a certain genre, I can recommend Norine Braun's "Now & Zen" to listeners of all genres. That is a rare find. Dennis Halsey - The Best Female Musicians"
NOW AND ZEN 
On the iPod: Now and Zen, by Norine Braun 
I mentioned in my last post the innovative distribution methods of Magnatune and hinted that I found the site offered some excellent music. Witness Norine Braun, whose album Now and Zen I sampled in its entirety. 
Norine Braun is the Vancouver-based "Canadian Queen of Eclectic Pop," and receives airplay on independent stations around the world. Of this I'm not surprised; her music is very high quality with a certifiable offbeat indy cred. She is her own artist, and while she clearly has diverse influences, none of her work on this album feels derivative. 
If you are fond of jazz, groovy trance music, or the female voice, hop over to Magnatune and give her a listen. I hope you like it.
Zeke. One For Truth. 
Right from the first song, 'Jade', I felt comfortable listening to Norine. I just knew this would be a delightful journey. 
Norine's fifth CD finds her in a place where she is very comfortable with herself and her many modes of expression. She morphs effortlessly from songstress to spoken word artist to rapper to rebel punk screamer (check out her pipes at the end of I'm the 1). The beauty of it is that it never sounds forced. That's the sign of an artist who has reached a mature level of self-awareness and acceptance to be confident enough to explore the many facets of expression available within. 
Every song on the CD offers up something catchy, with words worth paying attention to. You can tell that Norine has something on her mind, or more specifically a state of mind, and that she wants to share her experience of life with us all, very openly. Ahh, artistic expression. When I am interested enough to listen to spoken-word and rap elements in a song, then there's something good going on. Even when speaking and rapping, her sense of melody and style truly help make it listenable. 
The trick that Norine has accomplished here isn't an easy one. To blend various musical styles and esoteric lyrics into one accessible whole is a great accomplishment unto itself. I believe that says a lot for her state of mind - this work being a reflection of that. 
While we may not have heard Norine's songs in the mainstream yet, that only tells me one thing. It isn't artists like Norine who need to adapt, it's the mainstream. I count on Norine being one of the pioneers to lead the way, with CD's like 'Now & Zen' being a prime mover. 
Norine . . . I know why you love to sing. 
*A note has to be made of the production and playing done on this CD - the work of James Bowers. He is one very talented, very gifted producer, capable of moving with Norine musically where she went with words, melodies and ideas. Highly recommended for any singer/songwriter in the Vancouver area is James Bowers Music.   Steve Allat. The Muses Muse 
Vancouver's Norine Braun's fifth release, Now & Zen, is the musical equivalent of the trilogy of needs in the Wizard of Oz. This is definitely a work with courage, heart and brains. 
Although its content is often intense and challenging, Now & Zen is never a frustrating listen. Even when Braun plays lyrically with philosophical concepts, she does so in a way that is accessible. For example, in "Intimate Hour" she examines the role of the self in intimacy: "All these symbols falling out of my head/ Is archetypal Self like Jung said?/ What do you do when you're told God is Dead?/ Do I keep talking to you instead?" 
Built on a solid foundation of soul, Now & Zen experiments with forms from ambient pop to jazz and rock. Happily, this eclectic collection succeeds largely, thanks to Braun's liquid vocals and intelligent songwriting. While following the jazzy "J'en Suis Desolee" with traditional threechord rocker "I'm The 1" seems jarring at first, the two songs really act as a study in contrasts and then demonstrate Braun's flexibility and range. However, Braun's stunning voice is used to its greatest effect on the opening track, "Jade," as well as on "Gently" and "Be Brave"-three of the CD's more simply produced songs. 
Now & Zen is an extremely ambitious CD from an openly queer artist whose work demonstrates compositional maturity. The only question this work raises is, why isn't Braun's music in rotation on Canadian airwaves?  Cindy Filipenko. Herizons Magazine 
Nobody could ever say Norine Braun stays with one style or formula on her album Now & Zen. She is all over the musical map stretching out her vocals into pop, rock, hip-hop, jazz, spoken word, blues…well you name it and she has it covered. Albums like this always interest me and keep me captivated. Eclectic is the operative word here and it is obviously Braun's modus operandi to present variety with her projects. 
The two tracks that I thought were the most engaging musically and lyrically were "Buffalo Nights†and "J'en Suis Desolee.†The catchy pop flavorings and rhythms are what hooked me with those tunes; I found them to be quite beguiling. I never enjoy rap or hip-hop and somehow Braun was able to change my mindset and my feet found a groove and my head was bopping. This caught me be surprise entirely. Just when I condemn a style of music for one reason or another it turns around and proves me wrong. 
The best way to describe what Braun does beyond offering tremendous selection of styles is to say that her music is over the edge into the realm of avant-garde yet not overtly risqué. Each style presented will certainly be clear to your ears. To keep the listener focused on the message in every song, the artist brilliantly executes a cross-cultural mixture of sounds and emotion. This CD was different, original, and primarily fresh and inviting. I am a happy customer.  Keith MuzicMan Hannaleck.  Progressiveworld 
From start with "Jade" through track fourteen "Move The Clouds", Norine Braun gathers all her tools and more to the point uses them with expert delivery and style. Jazzy, hip-hop, and a little punk thrown in for spice. "Now & Zen" shows the broad spectrum of Norine's talent. Totally enjoyable and packed with turns in genre. Notably is Braun's ability to vocally master these genres with comfort and confidence. Spirituality is again an under riding theme to "Now & Zen"  as with one of her previous CD's "Crow".  Self acceptance, understanding, and exploration are all a part of her message. Eclectic and bold, "Now & Zen" is one of the most exciting CD's of the year. Another of Braun's strengths is in the artists with which she is surrounded. All bring together an unforgettable musical experience. 
At times laid back, then swinging into danceable, the journey is filled with enticing hooks and strong lyrics. Norine Braun is not an artist who will or can be pigeonholed into a set type or genre. One of her charms is her ability to be a musical chameleon. Easily and seamlessly changing from one distinct style to another. The music is at times haunting as in "Jade", then  a 'stick to the ribs' catchy as in "J'en Suis Desolee". 
Picking a favorite would be extremely difficult for this reviewer. However, the aforementioned "Jade", and "J'en Suis Desolee" would be among the top to come to mind. "Be Brave" is a compassionate song of emotion. Truly one of the most beautiful I have heard. The closing song, "Move The Clouds" is a self explorative, musically retrospective and jazzy journey into self, control and self exploration. Dealing with desires, anger, and self acceptance. A closing which in traditional Norine Braun flair and style will leave you hungry for more. Lots more!!!!  Len Rogers. StoneWall Society 
Norine Braun is a Vancouver based artist who is not afraid to make music on her own terms. She has been called "jazzed up, funk tinged pop." That should tell you how her music defies conventional categorization. 
Jade" is a hard hitting number with a strong bass line and the listener expects they are about to hear a CD in the Alternative genre. Norine quickly shifts gears for the hip-hop/rap number "Intimate Hour." And Norine shows she has the chops to carry off the number. A remix of this could easily become a dance club standard. 
Once you're expecting one thing Norine shifts gears again with "Buffalo Nights," 
a song that could easily receive playtime on Adult Alternative Radio. Sometimes when you have a CD like this with songs of such diverse style you wonder if you are listening to a musician who has not found her path yet, this never comes to mind listening to "Now & Zen." Norine places these songs perfectly to make the CD work as a whole. 
j'en Suis Desolee" is a pure rock and roll tune, with the addition of some spoken word parts. Norine shows her ability at spoken word. Each song amazes me in its bending of genres, professionalism musicianship, and artistic integrity. Usually I recommend CDs to listeners 
who like a certain genre, I can recommend Norine Braun's "Now & Zen" to listeners of all genres. That is a rare find. 
Dennis Halsey The Best Female Musicians 
OK, just get past the somewhat disquieting disembodied head cover art and listen to this CD. People throw the word "eclectic" around a lot these days when describing CDs that fall outside the commercial mainstream, but pop vocalist Norine Braun's latest disc earns that label. Now & Zen is a pretty cool mix of styles – she calls it, "ambient soul pop with elements of hip hop, jazz and punk" -- that maintains a cohesive focus. It's also a lot of fun. 
Like jazz-pop vocalist Martha Lipton, Norine Braun has a lovely, flexible voice that sounds natural covering a variety of styles. The insistent chant-like refrain on "Intimate Hour" -- "Intimate hour become surreal power hour" -- has an appealing hip-hop feel and an undeniable commercial hook. On the bluesy/funk rock "J'en Suis Desolee" -- mixing sung choruses with spoken verses -- her voice sounds a lot like Debbie Harry. Similarly, "I'm The 1" sounds like it could have come off a lost Blondie album from 1980. When Norine shifts gears to the laid-back, southwestern-style acoustic guitar and trumpet accompaniment on "Survival of the Richest," it doesn't sound at all out of place 
Now & Zen most reminds me of the soundtrack to a favorite musical film or play, where you run to the record store immediately after leaving the theater in order to grab the album before the songs can fully leave your consciousness. That's a pretty big compliment. Search a little deeper into the pop music pile and dig out Norine Braun's Now & Zen . You'll thank yourself.  Gail Worley. ink19 
Norine Braun describes the songs on Now & Zen (Braun and Brains) as "ambient soul pop with elements of hip hop, jazz and punk, and she's right. The sheer variety sets Braun apart. She lures the listener in with the melodic pop of Jade,and shifts gears on the darkly laid out folk of the title track. Intimate Hour and Buffalo Nights, respectively, deliver the hip hop and jazz vocal touches referred to by Braun, while funk and punk, respectively, butt heads on "J'en Suis Desolee and  I'm The 1 And that's just the first half of the disc. Gregg Shapiro. Windy City Times 
"Braun is eclectic. There are singer-writer songs, hip hop, hard rock and more. It makes for intriguing listening... A nice array of keyboards fleshes James Bowers production. They're as varied as Braun's ambitious LP." Tom Harrison The Province 
Norine Braun's "Now & Zen" is a seasoned feast of soulful folk rock mixed liberally with jazzy chunks and flying vocals to lift your inner funk. A Canadian singer/songwriter, accompanied by multi-instrumentalist and producer James Bowers, Norine channels the purity of folkers and the depth, funkiness and edge of Laurie Anderson. My fave picks are "Gently", "Maya" (including the lovely acapella version) and "Lucky 13. DJ Pusspuss The San Francisco Spectrum 
So much of how opinions are formed come from first impressions, but the mere fact that after many listens, Now & Zen still remains fresh is a testament to the individuality and creativity of Norine Braun as an artist and songwriter. This disc jumps all over the genre map, finding refuge in rock, classical, jazz, and avant-garde along its journey. Braun herself is an interesting mixture of equal parts Blondie, Bjork and Margo Timmins. Smooth one minute and rockin' out the next. It's a rare quality, and one that Braun capitalizes on to keep things interesting while exploring the many facets of her own personality. The production work on this disc is also something of note. Everything is very crisp, has taken great care in its attention to detail, and flows seamlessly from one song to the next. James Bowers provides playful and interactive backup on almost all instruments and really pulls out the best in Braun. Now & Zen has great depth, versatility and provides a fresh alternative to pretty much anything you could get your hands on in the mainstream progressive rock world. What a fantastic way to be introduced to a talented woman. Standout tracks: title track Now & Zen, "I'm the 1" and Intimate Hour. Heidi Drockelman. Indie-Music