NO.8
Vancouver based singer-songwriter Norine Braun is an enigma. Is she a jazz chanteuse? A blues singer? A pop singer? A rocker? On No. 8, she almost dares you to decide for yourself. Braun recruited a killer collection of roots rock, soul and blues session players including renowned producer and Juno nominated, Adam Popowitz (Pacifika, Mollies Revenge, Leela Gilday). The album is a mix of new originals by Norine Braun with blues, roots rock and soul at the centre.
"Over the course of her eight albums local songwriter Braun has developed exceptionally sharp lyrici
sm, fluid vocals and a way with a driving melody. Case in point, the single "Drift Away" from her new CD." 
- Stuart Derdeyn The Province Vancouver BC
" No. 8 receives my highest rating of 5*****. Highly Recommended and Thoroughly Enjoyed. Another Treasure of an Album from a Truly Canadian Treasure..."- John Vermilyea (Blues Underground Network)
"The album received an A on an Ato F grading scale, with Drift Away, Drunk, I Will I Won't, Sprack Chica Boogie, and Neutral Territory. Very eclectic sound! Powerful vocals set the tone for a blend of genres in this album." - Matt Nightingale CHSR Music Director
"Overall, Norine is a singer/songwriter with a sense of humour... There is enough tongue-in-cheek and embracing of silliness to bring a smile to a hardened reviewer's face. You can just tell that Norine Braun had a ball recording this album." -Ana Bedard Beatroute Magazine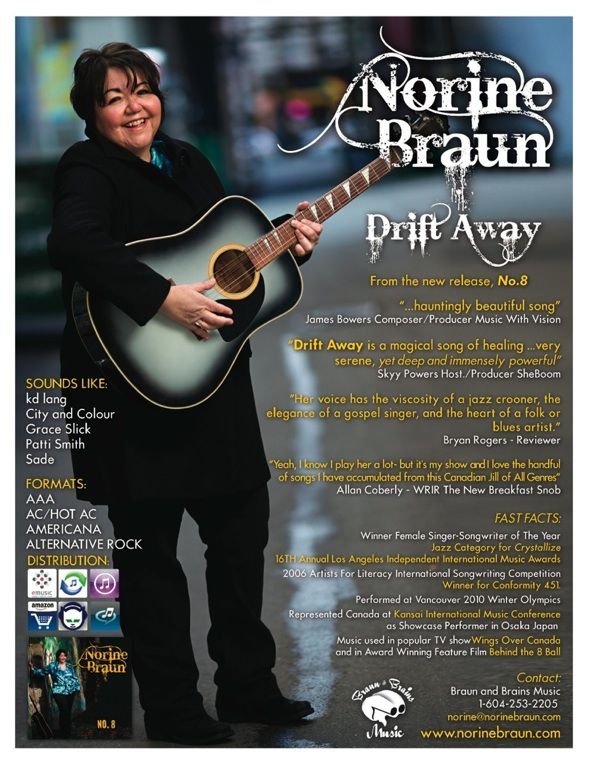 May 31, 2011
In the past, Braun has tried out different contemporary genres that tended to get the attention, and to obscure the fact that she's a good singer. Here, Norine has opted for a simpler acoustic setting. She's not gone folkie, though, as right from the start, the vocal rhythm of "Drift Away" is her awareness of hip hop. Elsewhere there is country, blues-rock and generally a more rootsy feel. Without claiming to have heard all seven albums that came before, this is probably her most natural. 
Blues Underground - John Vermilyea
Most artists are quite content to pick one particular genre and play their music within that realm throughout their career, but Norine Braun is not like most artists, as her newest release, "No. 8", clearly and uniquely shows.
Norine Braun is not, and has never been content, to be boxed in by the conventional musical wisdom that it is best to stick with one thing and do it well. Norine long ago started thinking out of that box and in doing so has attracted a huge following of her music, not only locally from her home base of Vancouver, but worldwide. Her voice is magical, her guitar playing mystical, and her music is beautiful. Her influences, "which according to Progressiveworld.net, are all over the musical map, stretching...her vocals into pop, rock, hip-hop, jazz, spoken-word, blues...you name it, she's got it covered". "Citing derivative influences that include Sade, Bjork, Tracy Chapman, kd lang, Patti Smith and Norah Jones, Braun's musical bedrock is steeped in soul, with jazz, ambient pop and rock & roll laid overtop in a sound that Indie-Music.com has observed, has great depth, versatility, and provides a fresh alternative to pretty much anything you could get your hands on in the mainstream progressive rock world." 

"No. 8" consists of 10 Tracks, of which Norine Braun is credited, solely, for the words and music on 9 of them. The remaining Track, she is credited along with Alice Fraser, for the music and takes sole credit for the lyrics. "No. 8" once again shows off Norine's proficiency as a musician and songwriter. 

"No. 8", finds Norine on Vocals, Acoustic/Electric Guitar, and is accompanied by an amazing group of artists, which included, Adam Popowitz (Bass, Lead, Mandolin), Elliot Polsky (Drums/Percussion), Andrew "Huggybear" Huggard (Harmonica), Mary Ancheta (Keyboard).

If you have never heard any of Norine Braun's music before, "No. 8" will certainly captivate you and more than likely send you in search of her previous releases. For those of you whom are familiar with her music, you will no doubt once again be amazed with this excellent new musical offering, which has a little something for everyone, and a lot for all. Blues fans will no doubt like Tracks 2, 7, & 10 ("Drunk", 'Only One", and "Sprack Chica Boogie") and will really appreciate Andrew "Huggybear" Huggard's Harmonica playing on those tracks. You can check out a nice Live version of "Sprack Chica Boogie" on YouTube, https://www.youtube.com/watch?v=K0zkDQTNJgo&. Norine Braun is truly a master of whatever Genre she chooses to perform and when she plays the blues, it comes across as true as any blues artists could accomplish. 

Tracks 1, 4, 5, and 8 ("Drift Away", "Midnight", "I Will/I Won't", "No.8") are somewhat Pop in style and although they are a little slower in delivery, that does not make them any less intense, especially the title track "No. 8".

Track 3 ("Neutral Territory"), is a nice little song that is done in a Folk/Country Style, similar in sound to a few of kd lang's more countryish songs. Mandolin and Harmonica are great additions to this Track.

Track 6 ("Nothing To Hide"), takes us back to the 50's Style Rock "N" Roll with as one reviewer described, "a 1950's sock hop with screaming guitar lines and her vocals echoing to set the mood."

Track 9 ("Paint"), her second to last track, continues to show off Norine's powerful vocal delivery. Once again, I must compare it to kd lang's style, especially when talking about a more soulful jazzier sound. A brilliant song, sang brilliantly.

"No. 8" is the 4th Album I have received from Norine and again she proves that her ability to disappoint, just does not exist, and although I have described music from a few other artists as being hauntingly beautiful, it is above all, that Norine truly deserves that description for her music. Norine Braun is a wonderful musician, as well as, an extremely talented singer and songwriter, something that "No. 8" so eloquently proves.

"No. 8" receives my highest rating of 5*****. Highly Recommended and Thoroughly Enjoyed. Another Treasure of an Album from a Truly Canadian Treasure..
Review by John Vermilyea (Blues Underground Networ
- Vinny "Bond" Marini -ReviewerArtist: Norine Braun  Album: No. 8
Norine Braun is an enigma. Is she a jazz chanteuse?  A blues singer?  A pop singer? A rocker?  On No. 8, she almost dares you to decide for yourself.  With this collection of 10 songs that run a wide gamut of musical styles, Braun is supported by a collection of skilled musicians and has crafted an album that will make you want to go back and listen to her previous 7 records.  No. 8  boasts a team including Adam Popowitz (producer, bass, lead guitars), Elliot Polsky (drums), Andrew "HuggyBear" Huggard (harmonica), and Mary Ancheta (keyboards, piano).  With so many different styles of music being played, the spotlight always falls on the rhythm section, and in this case Polsky shines throughout.  He adds small offbeat accents and fills where you will not expect them. 
Braun opens with "Drift Away," a funky groove song.  Popowitz plays a bright floating guitar line and Braun channels her inner Natalie Cole, breaking into a stanza of spoken-word and then back into the song.  She likes to change tempos and mess around with her music, and it works well for her.  Immediately, then, she shakes off the Alt-Rock veneer and comes at you with the good times blues winner, "Drunk."  It has a deceptive opening, though, beginning with Braun finger-picking an acoustic guitar.  Then Polsky counts off a 4-beat on the drum sticks and BAM, the club just got smoky and the beer is flowing.  With Huggard filling in the spaces blowing the harp as Braun sings of being seduced in an afternoon alcohol haze, they weave a tale of taking chances and eventual consequences.  Pay close attention to the funky double beats Polsky throws in on this song. Braun even finds a way to use the word impervious in the lyrics.  Go on, girl!
Don't get too comfortable with that groove, though.  Braun now goes Nashville on you.  "Neutral Territory" has the same musicians as before, but now Huggard is blowing a wailing country sound, Polsky is laying down a chugging beat on the snare and Braun is telling her story like she was born in the hills of Tennessee.  "Midnight" fits in another Alt-Rocker before Braun presents "I Will, I Won't" and she shows off a stellar range of vocals, tearing off lines from falsetto coos to a raging Patti Smith, drums pounding semi-spoken lyric rant of "I will get there, I won't get there, I don't care anyway."
Next, "Nothing To Hide" puts Braun in a 1950's sock hop with screaming guitar lines and her vocals echoing to set the mood. It is a fun song.  On "Only 1," she again hits the spot with another bluesy song of falling in love and professing her devotion.  The band goes through a few tempo changes along the way and the song fades in the middle of a lyric.  A nice touch.  The title tune then appears with a deep dark opening of tom-tom drums pounding and Popowitz playing a west coast inspired ethereal guitar line.  This is a song David Lynch would have used on Twin Peaks. 
"Paint" opens with a sweet classical guitar and Braun becomes that nightclub jazz singer.  She owns it.  You can feel the pause and then the band comes in louder and the song is full of the colors described in the lyrics and Braun's voice, so soft and smoky in the beginning before becoming big and bold.  Think Sade on steroids.  The album ends with "Sprack Chica Boogie" and you need not ask the genre for this ditty as Braun goes even more country, vocal shrieks straight from the hills included.  It shows off Braun's humorous side and ends the album nicely. 
No. 8 is a very impressive outing by Norine Braun. Though the subject of her songs don't  change much throughout, it is all in the way she presents it in the genre du jour. And do not take that wrong.  Braun owns the styles, some more so than others, and she could find a place on a multitude of different radio formats with just the songs on this album.  One wonders if her love of variety is not a reason she has not found more success after the so many years in the business.  Here's hoping No. 8 changes that for her.
Review by Vinny "Bond" Marini  Rating:  4 Stars (out of 5)
 REVIEW BY Alex Henderson
Artist: Norine Braun Album: No. 8
 When it comes to influences, Norine Braun certainly cannot be accused of being one-dimensional.  According to her publicity bio, the Vancouver, Canada-based singer/songwriter has been influenced by everyone such diverse females as Tracy Chapman, Patti Smith, Björk, and Sade.  Essentially, Braun is a folk-rock/adult alternative/roots rock type of artist, but during the course of this album, she also incorporates elements of jazz, soul, blues, hip-hop, and country.  Braun obviously has eclectic tastes, and while it would be an exaggeration to say that she is beyond categorization, it is quite accurate to say that No. 8 is a far-reaching, unpredictable effort. 
The k.d. lang influence is especially evident on "Drift Away," "Only One," the melancholy "Paint" and the title track "No. 8."  Much like Lang, Braun knows how to be rootsy and jazzy at the same time.  These are songs that would probably work well for Cassandra Wilson, René Marie, Claire Martin and other broad-minded, adventurous jazz vocalists who don't suffer from the delusion that worthwhile popular music ended with Tin Pan Alley.  But Braun shows a different side of herself on "Sprack Chica Boogie," a roots rock/Americana number that is as exuberant as it is gritty.  She can be quite introspective at times, but "Sprack Chica Boogie" is straight-up party music.  Exuberance also prevails on the folk-rock item "Neutral Territory" (which contains some Bob Dylan-ish harmonica playing), the gutsy "Nothing to Hide" and the gritty blues-rock offering "Drunk."
Braun is also enjoyably bluesy on "Only 1," and "I Will, I Won't," which sports a surprising psychedelic edge.  In fact, there are hints of Grace Slick and Jefferson Airplane on "I Will, I Won't," which sounds like it could be a song from the late 1960's or early 70's.  If a Jefferson Airplane tribute band decided to include "I Will, I Won't" in its repertoire, the tune would sound at home alongside "Somebody to Love," "It's No Secret" or "White Rabbit."
Braun includes a little rapping on "Drift Away," but those hip-hop-ish moments don't detract from the song's jazziness.  Rather, the rap section that Braun includes brings to mind the way that some alternative rappers (De La Soul, A Tribe Called Quest, Digable Planets) have been influenced by jazz.  That is not to say that Braun is trying to compete with rappers or is going after the hip-hop market.  Rather, "Drift Away" is an example of a singer/songwriter maintaining her folk-rock/adult alternative/roots rock orientation while offering some acknowledgement to hip-hop.   
As diverse and unpredictable as No. 8 is, the album never sounds unfocused or confused.  Braun never sounds like she is randomly tossing different things up against the wall and hoping that some of them might stick. Instead, she is focused, and she handles herself as convincingly on the jazzier, more introspective material as she does on something as fun and playful as "Sprack Chica Boogie." 
No. 8 is a consistently likable outing from this Canadian artist.